Burj Dubai: The World's Tallest Building Keeps Getting Taller
---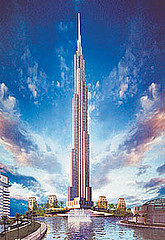 If the
Burj Al Arab
is the icon for modern luxury hotel design, then the
Burj Dubai
, like a phoenix rising from the construction chaos of Dubai, should most definitely be a contender for the next round of "
The New 7 Wonders of the World.
" It is now the tallest building in the world, and it keeps getting taller. Every three days, another floor goes up and no-one really knows how high it is going. Officially, the projected final height of Burj Dubai is being kept a secret-- due to intense competition. In fact, the good folks at
Wikipedia
can't keep the entry updated fast enough. Rising from the center of the Emaar development, the Burj Dubai claims to be "the most exclusive address in the world."
As described by the Washington Post
:
From its heights, the super wealthy who have bought one of the project's luxury condominiums will survey the boomtown of boomtowns, a city-state so rich and ambitious that it is remaking its geography, building man-made islands and peninsulas, and a 46-mile, $11 billion canal (to give waterfront access to new real estate developments).
Related Articles:
What's Up With the Burj Dubai?
Kuwait Plans One-Kilometer Tall Skyscraper
---