Burj Dubai: New Seven Wonders of the World?
---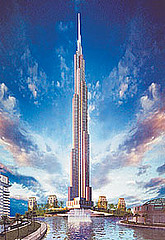 The Burj Dubai
, the tallest building in the world, has just been
selected by Conde Nast Traveler
as one of the "new seven wonders of the architecture world" in the April issue.
Designed by Chicago-based architect Adrian Smith
, the towering skyscraper will be 2,111 feet high and 160-plus stories when it opens next year (that's 1.5 times the size of the Sears Tower):
Its completion will mark the first time the Middle East has been able to claim tallest-building rights since the early fourteenth century, when England's Lincoln Cathedral surpassed Egypt's Great Pyramid-- a point of pride for local backers.
And here's another record-breaker: the elevators will catapult visitors to the top at a speed of 40 miles per hour.
---