Baur au Lac, Zurich's Most Luxurious Hotel, Plans Makeover
---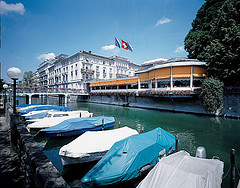 For over 160 years,
Baur au Lac
has been the top address in Zurich, playing host to royalty and international celebrities. Notably,
Baur au Lac
is one of the few hotels in the world owned by the same family for six generations. Set in its own park on the shore of Lake Zurich just a short walk from the Paradeplatz, the hotel is celebrated for its elegant rooms, unequalled hospitality, and stellar restaurants. And now, this luxurious haven, one of the founding members of the
Leading Hotels of the World
, is getting a facelift in mid-July. Throughout its history,
Baur au Lac
has stayed ahead of the game by anticipating the needs of its international clientele and updating and modernizing the hotel accordingly. What's in store with the planned CHF 40 million renovation? 25 rooms will be converted to create 15 new suites and junior suites on the lakefront and canal facing side of the hotel. All rooms are slated for completion in spring 2009, and
the hotel will be kept open at the hotel with inconveniences to guests kept at an absolute minimum.
The gourmet restaurant
Le Pavillon
and the summer favorite
La Terrasse
will be
redesigned by the famed restaurant and hotel architect, Pierre-Yves Rochon, starting in October.
(He''s the man behind the
George V
in Paris and a few of the Michelin-starred
Joel Robuchon
restaurants).
---