An Interview with the General Manager: Ezio Attilio Indiani of Hotel Principe di Savoia
---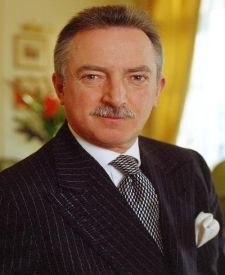 Ezio Attilio Indiani
was appointed general manager of the
Hotel Principe di Savoia Milan
in July 2005. He is recognized worldwide as a leading figure in luxury hotel management and has worked at some of the most prestigious hotels in the world in the course of his 25-year career. In recognition of his management abilities, in 2002 he received the Hermes Prize as the "Best Hotel Director" in the world, the highest award given in the deluxe hotel category. He took some time to answer a few of our questions, which we can share with you below.
Five Star Alliance: How did you come to be General Manager of the hotel?
Ezio Attilio Indiani: I was appointed after the Principe di Savoia become part of the Dorchester Group and later Dorchester Collection. I have spent 25 years in luxury hotel management, previously at Villa d'Este in Cernobbio, Hotel Des Bergues of Geneva, Hyde Park Hotel, Casa de Campo complex in the Dominican Republic, Hotel Eden of Rome and Grand Hotel Palazzo della Fonte of Fiuggi to name a few.
Five Star Alliance: Tell us what you feel is the most distinctive or unique feature of your hotel? What best describes the personality of the hotel?
Ezio Attilio Indiani: For sure our Presidential Suite, 500 square meters with private spa in Pompeii style, an area of 100 square meters with frescoed walls and vaulted ceiling encompassing a swimming pool (20 square meters), whirlpool, sauna and Turkish bath. Table and bed linen, cutlery, crystals and china are all custom-made for the suite. Butler service and staff available 24 hours a day. Direct check-in in the suite. Limo service from and to the airport and to downtown.
Five Star Alliance: Can you share the names of any famous guests who have stayed in the hotel, or perhaps regulars that return on a periodic basis?
Ezio Attilio Indiani: George Clooney, Leonardo di Caprio, Sharon Stone, H.R.H. Queen Rania of Jordan, President George H. W. Bush, Woody Allen, Frank Sinatra, Paul McCartney, Donatella Versace, The Rolling Stones ... and more.
Five Star Alliance: Who are your customers and where do they come from?
Ezio Attilio Indiani: Our main customers are businessman coming from UK, USA, Japan, Russia, France, Germany and U.A.E. Also leisure travelers from these markets are increasing especially over the week end.
Five Star Alliance: What is the best thing about the hotel's location? What is your favorite thing to do in the surrounding area?
Ezio Attilio Indiani: The Hotel is located in a strategic position. Our customers can reach the city centre very easily without being in the main crowded streets of Milan and this is very important for our VIP guests who need privacy.
Five Star Alliance: Which do you consider to be the best rooms in the house? Not just the suites, but also any particular standard rooms that have great views or unusual advantages? If you were checking into a standard room at the hotel, which one would you request?
Ezio Attilio Indiani: In January 2006 we opened 48 new Deluxe Mosaic Rooms, all overlooking Piazza della Repubblica and they have been designed to appeal to all types of guests – business and leisure, men and women, locals and international. I think these kinds of rooms are very beautiful, especially the bathrooms. The design inspiration and key feature of every bathroom is the mosaic wall – a contemporary feature of classical Italian design.
Five Star Alliance: Can you mention any interesting miscellaneous trivia regarding the hotel?
Ezio Attilio Indiani: One of our VIP guests, Sylvester Stallone, asked us to buy the beautiful chandelier of our Winter Garden Bar. Obviously we couldn't sell it but we called our designer who made a copy of the chandelier for him.
Five Star Alliance: If you were considering staying at the hotel as a guest, what would you want to know about the hotel before checking in?
Ezio Attilio Indiani: I would like to be informed about the high level services and amenities such as the free Limousine service or the Spa with swimming pool, sauna and Turkish bath. It's also very important to be told about the business centre and the high level of technology available in every room. Moreover, I would be glad to know that the Hotel offers the best concierge service in Italy, which can actually unlock the doors of Milan to every costumer, as well as one of the best restaurants, "Acanto", which is a matter of pride for all of us.
---