Abu Dhabi Announces its Newest Five Star Hotel: the Emirates Pearl
---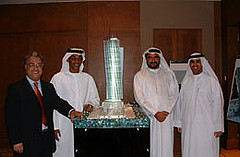 What did I tell you? Abu Dhabi is where it's at. Apparently, the capital of the UAE is aiming for 25,000 hotel rooms by 2015. The latest five-star hotel announcement is the Emirates Pearl, expected to take two years to build and at a cost of $136 million. The coastal hotel's defining feature? A 240 meter high tower (that's 47 storeys) designed by Austria's award-winning architect Dennis Lems:
The tower, which houses 352 spacious rooms and suites and 104 luxuriously furnished apartments all with balconies and Gulf views, sits on a 22 meter high, five-storey podium which features a 20-meter high atrium with five restaurants, service centres, offices, a gym, hair salon, spa, meeting rooms, business centre and shops.
The Emirates Pearl will be constructed with a contemporary twisting glass design. And the hotel's entrance will be marked by a "figurehead sculpture of an Arab hunting scene." How snazzy. And they sure picked a winner of a name for the place.
---

Related Hotels