7 Star Hotels? What's Up with the Hotel Rating System?
---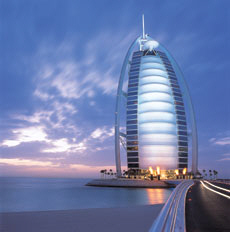 A recent article in The Guardian got me thinking about the hotel rating system—those hotels that strangely surpass five stars. The best-known example worldwide? Why the seven-star, sail-shaped Burj Al Arab takes that prize. Perched on its own island, its tower soaring above the skyline, the hotel is the landmark visible for all of Dubai. What's so special about a pad here? Personalized butler service, a laptop and private fax in every suite, an underwater seafood restaurant (reached by a simulated three-minute submarine ride), and an 18th floor spa with sweeping views of the Arabian Sea. The price tag starts at $1,000 a night.
With such over-the-top perks at luxury hotels these days (personal iPods and PSPs, and all the good stuff I've recently blogged about), it's no wonder that hotel PR departments are getting creative with their rating systems. After all, there is no global, standardized rating system. Sure, different tourist boards around the world have their own ratings, and Mobil and AAA are widely known, but a universal system? Nope.
That's pretty bogus if you ask me. What should we do about it?
---

Related Hotels