The Bee-Friendly Fairmont Waterfront Vancouver
---
Looking to travel green and help the bees? Fairmont Hotels has partnered with the Pollinator Partnership to create habitats at various hotels and resorts for bee nesting and reproduction. To date, Fairmont now has more than 40 honeybee apiaries and pollinator bee hotels around the world, helping to combat declining pollinator habitats. 
Of particular note, the Fairmont Waterfront Vancouver has a "Bee and Bee" Pollinator Hotel set within the property's 2,400 square foot rooftop garden. As part of The Pollinator Partnership Canada and Fairmont Hotels & Resorts WILD FOR BEES national program, the hotel's Bee Butler Michael King, Executive Chef Dana Hauser, PR Manager Kristyna Vogel, and Hives for Humanity's Sarah Common worked together to create the bee hotel. Every piece of the habitat tells a story: fire bricks are from Downtown Eastside, logs were sourced from fallen trees in Stanley Park, East Van Roasters provided burlap, wood is from the Haida nation, and branches, nests, twigs, and leaves were collected from around the city. Read more below the photo.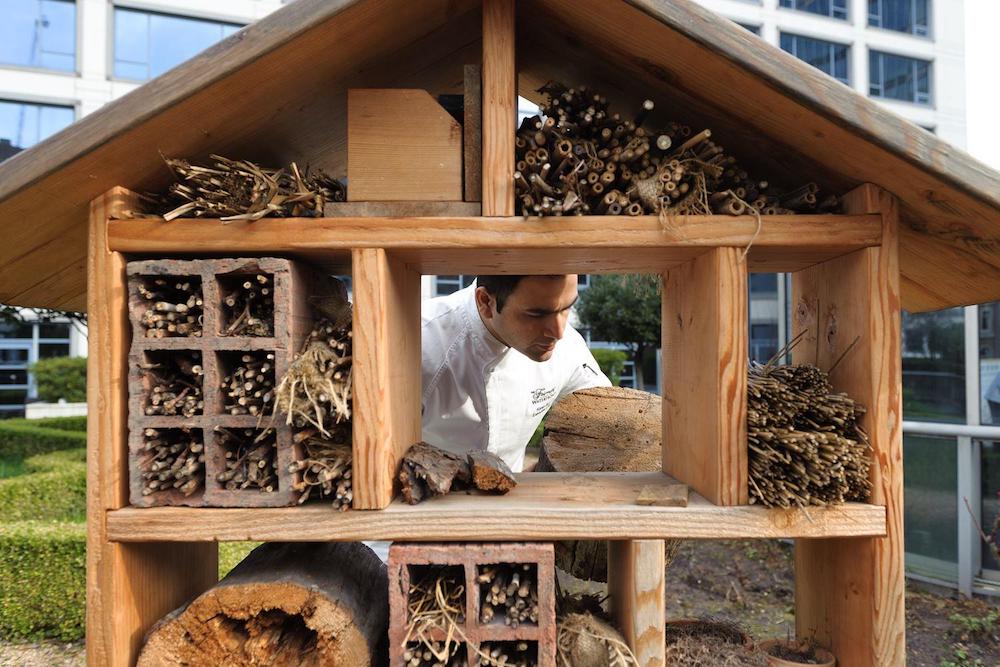 Set on the third floor of the hotel along with 2,100 square-foot herb garden--which is the source of sustainable herbs, vegetables, and edible blossoms used in culinary creations throughout the hotel, the apiary contains five beehives with more than 250,000 honeybees that have produced 125 pounds of honey since 2015. From May to September, guests can experience a beehive tour with the hotel's Bee Butler.
Honey from the hotel's rooftop beehives is used throughout the property to create seasonal dishes in the ARC restaurant, chocolate, pastries, salad dressings, and signature cocktails. Plus, the local Whistler Brewing Company incorporates the honey into the "Fairmont Stinger Honey Lager", served on-site. 
---

Related Hotels