Exercise in Style: NH Lingotto Rooftop Track
---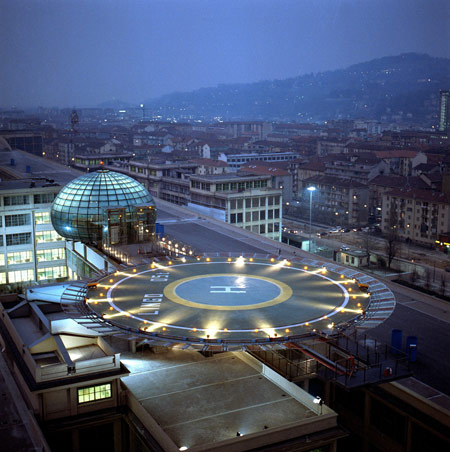 Are you an avid exerciser who doesn't like to give up working out when you're traveling and away from home? We definitely understand the need to keep up with your routine while still enjoying the beautiful city you're in, so we'd like to introduce you to hotels that offer you an opportunity to exercise that's a bit different from your typical access to a treadmill, elliptical, and a few weights in a hotel gym.
Today's featured luxury hotel is the NH Lingotto in Turin, Italy, and its exercise facility is sure to be unlike any other you've seen. The hotel is situated in the former Fiat automobile factory, and the redesign of the entire space has made the NH Lingotto a striking blend of the modern and historic. The hotel's first floor connects to a shopping gallery, with various boutiques and cafes, while the top floor houses the incredible Pinacoteca Giovannie Marella Agnelli art gallery. Aside from these luxurious amenities, the NH Lingotto also has 240 beautiful rooms and suites and a 1,030 meter running track on the roof that was formerly a Fiat car-testing track. This track allows you to exercise outdoors while taking in the most magnificent views of Turin, Italy.
So whether you're a serious runner or simply enjoy going for a walk, consider checking into the NH Lingotto and checking out the outdoor track for some fresh air and a unique exercise opportunity that's quite outside the norm.
---