Tallinn It Like It Is: Estonia Is the New European Hot Spot
---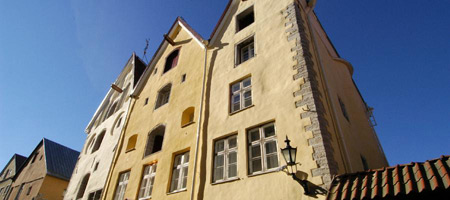 There are plenty of cities renowned for their superficial beauty: gorgeous city centers practically lined with monuments to the glory of architectural prowess and a developed tourism industry specifically designed to funnel you to the safest of orchestrated experiences. The façade is beautiful and idealized, but you never really see anything of the real city. And real cities have their own beauty to them – the beauty of people living their lives around you, the beauty of a city growing and changing beneath your feet.
In Tallinn, you can feel that pulse. It has all the same trappings and amenities of a modern European city, but everything feels more raw. You can touch the rough edges of the polished front, and that's where the beauty of Tallinn lies. From the hopelessly kitschy restaurants catering to the crowd that steps off the ferry from Helsinki each day to the street hawkers who sell coins with the faces of American presidents, completely unrelated to the monuments they stand in front of, everything in Tallinn feels somehow more genuine than tourist experiences elsewhere. Their tourist industry is so obviously a costume for the city that you can see right through to the heart of a people still growing into their newfound wealth and independence. And it's fascinating and captivating to behold, both in the mix of traditional culture with ultra-modern amenities and in the way the people themselves engage with you.
The new European Silicon Valley, Tallinn is experiencing the same tech boom that hit California a decade ago, and the influx of money has revitalized and restored a city with a history that dates back to 1050, when the fort at the heart of the old town was first constructed. Forging their independence most recently in 1991, the city is exploding upwards and outwards. Despite this growth, the entire city is easily explored on foot from any of the top hotels in Tallinn, such as the Hotel Telegraaf and The Three Sisters Hotel, who each bring a modern glamour to the traditional architecture. From these outposts, it's easy to take a bike tour of the city, visit one of the oldest forts in Europe, and explore towers and monasteries that date back to the Teutons.
If you're at all interested in history or modern culture, Tallinn is a growing European gem that you just can't miss.
---

Related Hotels