A Boutique Critique: Ka'ana Boutique Resort
---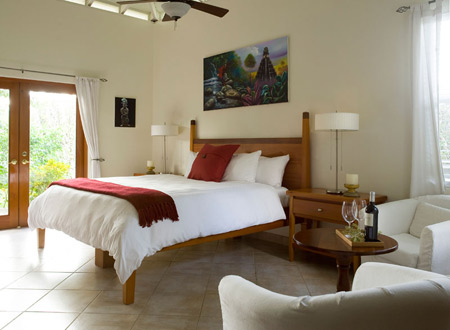 I have a special place in my heart for tiny boutique hotels. It may be a little smaller than some of the other chambers, and there aren't enough spots for everybody, but that just makes the few who do make their way into my good graces all the more special. I can give each and every one the loving care and attention they deserve. And thus began my new segment on boutique hotels that I just adore.
Belize is one of those countries that doesn't necessarily get a lot of attention, and as far as I can tell, there's no good reason for that.  Shame on you, hypothetical ignorers of Belize. Let me be the first to say that its relative anonymity is in part what makes it such an attractive destination.  So on second thought, keep it up, guys.  I'd rather we keep this our own little secret.  So much of our vacationing attention is spent on beachfront properties with idyllic beaches and crystalline waters that we forget the charms of inland destinations.  Central America is home to some of the lushest rainforests in the world, and Belize is no exception.
Standing just on the edge of this tropical paradise is the Ka'ana Boutique Resort, with an infinity pool nestled within the foliage to give the perfect escape.  Guided mountain biking tours are offered at every level of difficulty, and the nearby caves and waterfalls are perfect destinations for ecological exploration.  And if you'd rather experience it all in a more equestrian manner, the Ka'ana offers that as well.  Return after a day of adventure to your very own Casitas, a standalone cottage that you can call your very own.  In my mind, the Ka'ana Boutique Resort is the perfect rainforest destination.  It's the property is intimate, the surroundings breathtaking, and it even has the largest wine cellar in western Belize.
---