Chocolate Festival at Jade Mountain Resort
---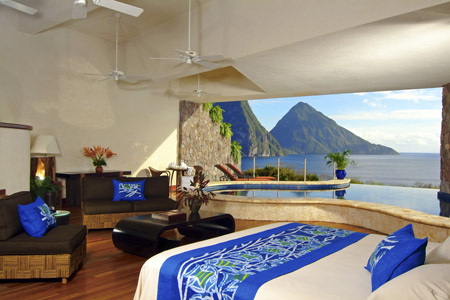 The Jade Mountain Resort will be having its annual chocolate festival December 9th – 12th, 2011, and it is sure to be a unique and exciting event. If you're a chocolate lover who is curious about understanding and experiencing the alchemy of chocolate, then this festival is absolutely for you. Cacao has a history in St. Lucia dating back to the 1700s, and this resort has over 1,000 cacao trees, which have been the source for harvesting cacao beans for generations. Make a reservation at the Jade Mountain Resort and be one of the first to taste their premier vintage chocolate.
Start off your chocolate weekend with a "Chocolat-tini" party, during which you'll get to sip on a complimentary chocolate martini and enjoy exotic chocolate desserts including an incredible Double Dark Chocolate Fondue.
Saturday morning, from 10:00am – 1:00pm, take part in an engaging walking and tasting tour of the Cocoa Plantation and Organic Garden, and complete your day with an exotic, ALL chocolate 5-course dinner at the Jade Mountain Club.
Complete your heavenly weekend with a "Chocolate" Breakfast in Bed, where you choose the time, and the Jade Mountain Resort will take care of the rest.
Have you always wanted to jump into a pool of chocolate? We unfortunately can't offer you that, but the chocolate festival at the Jade Mountain Resort will provide an entire weekend fully immersed in the world of chocolate, so be sure to take advantage of this unique offer.
---

Related Hotels