Unique Activities: Gladiator Training at Rome Cavalieri
---
If Julius Caesar is one of your heros, you won't want to enroll in gladiator training at Rome Cavalieri. The luxury hotel is located only minutes from Rome's great monuments, but offers 15 acres of Mediterranean parklands. The setting makes it a perfect place to practice your swordfighting.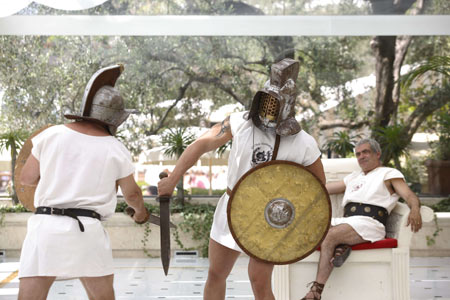 At the Rome Cavalieri guests can experience the world of the gladiators who fought and often died in the Coliseum two thousand years ago.
In the Rome Cavalieri's private park, overlooking Rome's skyline, instructors from Rome's Gladiatorial School will instruct guests in ancient combat techniques as well as explaining the life and times of the gladiators. Available on request, and open to all guests over the age of seven, the course is a mix of sport and culture. A gladiator kit is included with traditional tunic, Roman sandals, belt, protective gloves, and wooden training sword, and on completion students are presented with a medal declaring them a "Tiro," or first level gladiator.
Book a stay at Rome Cavalieri >>
---