West Bay Club Turks & Caicos Offers Springtime Deals
---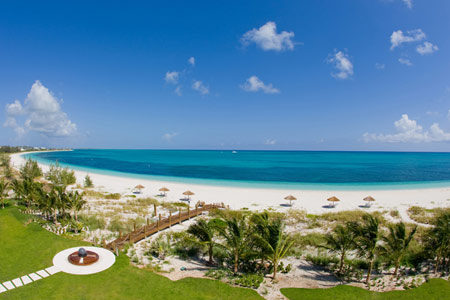 While the West Bay Club sounds like the name of a clandestine group of freemasons plotting to take over the world, in actuality it's one of the very finest hotels on a set of islands already famous for its world class luxury accommodations.  And now from April 15 until June 2, the West Bay Club is offering 10% off its top-of-the-line rooms and suites.  Not only that, stay for five nights, and every fifth night will be free.  That's another 20% savings and is a deal that's well worth an exclamation point!  
"But why stay at the West Bay Club?" you might be asking.  You always do ask the incisive questions.  Well, it's located at the west end of the most famed beach in the Turks and Caicos, Grace Bay, and if you know Grace Bay, you'll know that the western end is more tranquil than its eastern counterpart.  If you want the tropical serenity of a secluded resort on the crystal blue waters of the Caribbean, the West Bay Club is the place for you.  And that's a hypothetical preference that I think you, as an insightful questioner, probably share.  
And the rooms.  Oh, the rooms.  They've struck me speechless, and now I find myself quite at a loss for words, which is somewhat awkward, since there's another entire paragraph to write.  What's that? I'm still writing, you say? Well, that suggests I possess all the self awareness and quietude of my middle school years. But those suites.  Wow.  Their oceanfront suites feature full kitchens, waterfront balconies, and spacious living areas, and that's not even to mention the larger two and three bedroom suites that are perfect for the whole family or one person with multiple personalities. There's never been a better time to stay at the West Bay Club in Turks & Caicos.
---