The Top 20 Hotels in 2011: #13 The Hotel de Crillon
---
In the final days of 2011, Five Star Alliance is counting down the Top 20 Luxury Hotels & Resorts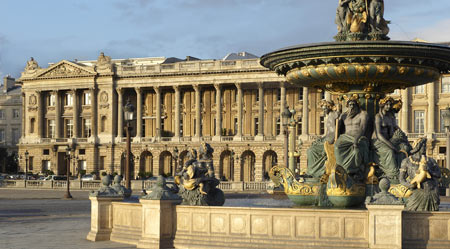 Worldwide, as decided by our guests.
In the #13 spot we have the Hotel de Crillon, the exclusive and historic Parisian icon.
Quick facts about the Hotel de Crillon:
- A historical monument in its own right, the luxury hotel is steeped in the culture of 18th century Paris.  Its Louis XV design believes strongly in gold filigree and ornamentation, but never crosses the line into gaudiness.  
- The gourmet restaurant Les Ambassadeurs fills the former ballroom of the Dukes de Crillon and dinner guests can enjoy the world class cuisine in a room that has entertained kings.  
- And speaking of entertaining kings, so many famous guests have called the Hotel de Crillon home, that it almost seems an affront to the others to single any out.  Theodore Roosevelt, King George, Andrew Carnegie, Cary Grant and many more have all called the hotel home, and they even flew the flag of Texas when Lance Armstrong celebrated his Tour de France victory inside their walls.
- Its suites are unparalleled, including the Leonard Bernstein suite, named for the famous composer who frequently called it home which offers a view of the Eiffel tower from your bubblebath.  The other famed American to reside there, Edith Wharton much preferred the Hotel de Crillon to the nearby Ritz, where "the newly rich but uncultivated Americans stayed."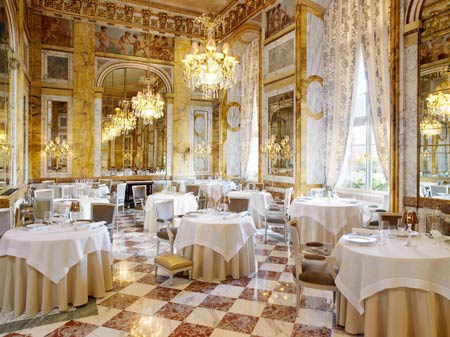 - One of only six palace hotels in Paris, you're guaranteed to get the royal treatment
- It houses seven palatial meeting and reception rooms that can house up to 350 people.  
View photos, learn more about the hotel, and check availability at the Hotel de Crillon >>
Be sure to keep up with our countdown! In case you missed it, here are our previously featured hotels:
#20 – The St. Regis Resort Aspen
#19 – The Fullerton Hotel, Singapore
#18 – The Peninsula Chicago
#17 - The Tower Club at Lebua
#16 - Auberge du Soleil
#15 - The Mount Nelson Hotel
---