Hotel de Crillon Renovations Revealed
---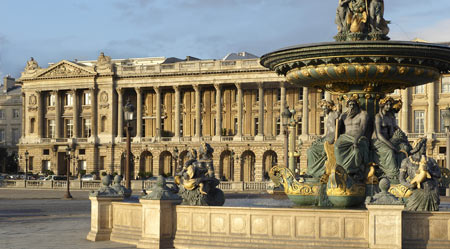 The legendary Parisian Hotel de Crillon recently closed in order to go a major renovation that's expected to last two years. Our sister publication, The Luxury Travel Advisor, got some inside information on what future guests might expect.
 Here's what writer Jena Tessa Fox found out about the renovations: 
Architect Richard Martinet, along with Artistic Director Aline d'Amman and three Parisian decorators – Cyril Vergniol, Chahan Minassian and Tristan Auer – are working to bring the historic hotel into the 21st century. And although both management and designers have revealed little in the way of details, a recent press release offered a hint: "The 7th floor … will be imagined as a 'quarter within the hotel' where fashion designers and brands can collaborate with the Crillon to decorate the suites." The hotel's management contract, the story continues, may take a page from the Kempinski model - an established brand that manages a number of historic hotels. And the Crillon will need a special kind of care to balance contemporary tastes with classic style: It is 250 years old, and several rooms are listed as national historic monuments. But the "Louis XV" decor, while never lacking for gilding, can seem a tad dated, and when the French Ministry of Tourism was handing out "palace" status to hotels in 2011, the Crillon was absent from the list. It is worth noting that Mohamed Al-Fayed's Paris Ritz also lost out and has also recently closed for a 27-month refurbishment. The renovated hotel will open its doors again in 2015.
We look forward to seeing the stunning results! 
---

Related Hotels