Green Initiatives at Bardessono
---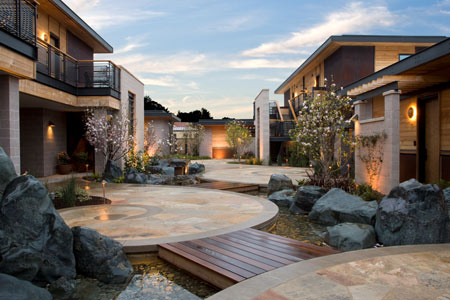 Bardessono is one of only three hotels in the United States that has been designed to achieve the Leadership in Energy and Environmental Design's (LEED) Platinum certification, the highest standard for environmental design. Initiatives include:
-Buildings that are designed with overhangs to reduce the heat gain from the summer sun, yet allow the winter sun's rays to enter and warm the rooms. Each room has 200 square feet of glass to allow for natural lighting. 
-When cooling is required, the first stage of intervention is for motor controlled exterior venetian blinds to lower to reduce the heat gain from the sun. When additional heating or cooling in guest rooms is necessary, water is used from 72, 300 foot wells on the property.
-The large amount of glass used in each building reduces the daytime requirement for electrical lighting. LED, halogen, or fluorescent bulbs are used in light fixtures throughout the property.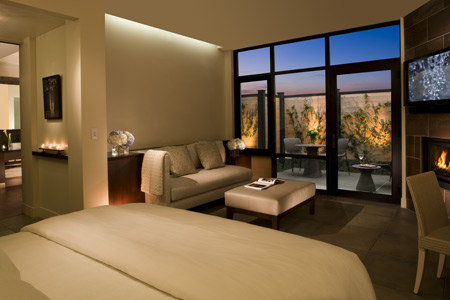 -All glues, adhesives, finishes, paints, carpets, and fabrics used at Bardessono are required to meet low volatile organic compounds (VOC) standards to vastly improve indoor air quality. 
-The combination of low VOC compound materials, no carpeting and drapes, all organic linens, terry and cleaning supplies, greatly reduces any potential allergens in the rooms.
-Indoors, bathroom fixtures with low water flow have been installed, along with dual flush toilets and waterless urinals. Outdoors, native and drought tolerant plants have been chosen for landscaping in order to minimize water demand. 
Book a stay at Bardessono>>
---