Wannabe There: The St. Pancras Renaissance London Hotel
---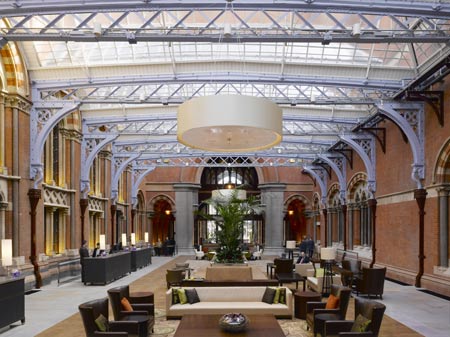 It can be somewhat of a rarity in the hotel world to find a hotel that focuses as much on defining an architectural niche for itself as it does the comfort of its patrons. The St. Pancras Renaissance London Hotel has certainly managed to do both in striking style, its stark, striking gothic exterior evoking the romanticism of early rail travel. Saved from demolition by a series of protests in the 60s by a Poet Laureate, the architectural wonder of the station has transformed from travel to hospitality, abandoning its railway roots in favor of a fresh redesign that takes advantage of its spacious interior. The red-brick exterior seems to be stretching skyward, following the sharp lines of its gothic spires.
Ever at the forefront of affluent equality, the St. Pancras offered the first Ladies Smoking Room in all of Europe and ushering a formerly sequestered activity into the public eye. And if you're a stargazer (and I don't mean those in the sky), it's worth a trip for its staircase alone which has been featured in films and videos as widely known as the Spice Girls debut single, "Wannabe."
So next time you're passing by London, make sure to check out the St. Pancras. Whether you're a railway enthusiast or a movie buff, or just a weary traveler looking for some extra-fluffed pillows to melt into, you're going to love the St. Pancras Renaissance London Hotel.
---