St. Pancras Hotel Goes Above and Beyond for its VIP Guests
---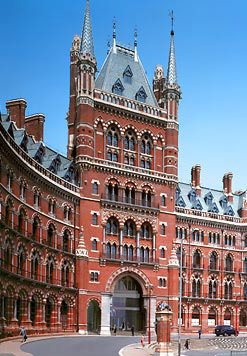 We're thrilled to announce that St. Pancras Hotel is the only hotel in collaboration with Eurostar offering complimentary VIP transfers for guests staying in Chambers Rooms and Suites. Chambers Rooms offer the following value-additions and start from 340 Pounds per night, excluding VAT.
• Access to the Chambers Club which offers a fresh morning breakfast, drinks and snacks throughout the day
• Access to the St. Pancras Spa facility, including a £30 Spa treatment voucher
• Priority table reservations at The Gilbert Scott Restaurant, a Marcus Wareing Restaurant
• Complimentary wired & wireless Internet connectivity
• Complimentary Melogy Male Grooming Wet Shave
• Butler Service
This incredible collaboration with Eurostar allows butlers and concierge members of the St. Pancras Renaissance Hotel London to meet guests from their journey, escort customers onto the train, and pack and unpack the guests' luggage. This sort of exceptional service certainly sets this luxury hotel apart, making it an exemplary choice for folks looking for a hotel in London.
---