New Restaurants in London: Thirty-Six by Nigel Mendham at Dukes Hotel
---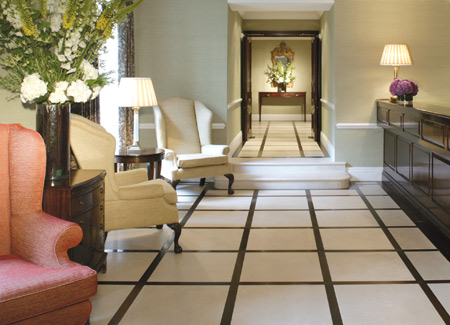 There's a new signature restaurant at Dukes London and it's guaranteed to get foodies drooling. The restaurant's name-- Thirty-Six by Nigel Mendham-- is derived from the number symbolizing good luck in Chinese astrology, the symbol of the magic square of the sun, as well as the hotel's address on Little St. James. Michelin-starred chef Nigel Mendham cooks up traditional British dishes in a "classic contemporary style" highlighting superb local produce. Here's a sampling:
Starters
Dry aged beef carpaccio, beetroot, horseradish; Rare breed pork of braised cheek with Waldorf salad; Scallops, cauliflower, smoked eel, red sorrel
Main Courses
Highland venison, butternut fondant, ossobucco; Lemon sole, langoustine tortellini, carrot puree, hazelnut crumb; Brill rib of beef with watercress and native oysters;
Desserts
Carrot cake, liquid carrot, iced cream cheese, spiced walnuts; Apples and brambles crumble, brulee, sorbet; Dark chocolate delice, crunchy pears and cardamon
All menu selections are offered prix fixe at Thirty-Six by Nigel Mendham: dinner is £49 for two courses and £60 for three courses; and lunch is £26 for two courses and £36 for three courses. The restaurant's nine-course tasting menu - which includes a Margarita right before the dessert courses - runs £95 or £150 with matching wines.
---