Conde Nast Platinum Circle 2012: Chewton Glen
---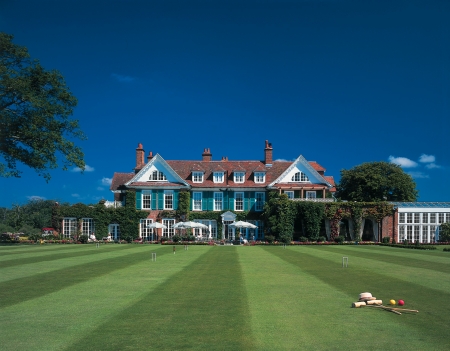 We've been spotlighting a list of Conde Nast's award-winning Gold List Hotels for 2012, and each one is amazing in its own right. In a clear case of never enough of a good thing, Conde Nast has yet an additional level to their awards, the meta-prestigious Platinum Circle Hotels, distinguished for being consistent Gold List winners for the last five years. Perhaps it could have been more aptly named the Conde Nast Award for Continued Excellence in the Having of Conde Nast Awards, but that's probably just my jealousy talking. It takes a certain level of cachet to be able to recognize someone for being recognized by you, and the Conde Nast Awards carry that weight. Regardless, the Platinum Circle hotels are undoubtedly some of the best of the best and have the mark of consistency that other hotels can only aspire to.
The Condé Nast Traveler Gold List 2012 is the eighth of their annual lists, and the hotels chosen by their team of editors and experts are the best for service, food, location, rooms, leisure facilities, ambiance and design.
The less-than-appetizingly named Chewton Glen is today's entry in our continuing exploration of the Conde Nast Platinum Circle.  Just 20 minutes from the English Channel, Chewton Glen is the epitome of classic English style. And the pinnacle of this epitome is the expansive croquet lawn that fronts the beautiful 18th century manor house. With only 59 rooms, the service at Chewton Glen is exceptionally personal and comes with the British flair for understatement that, like a nice crumpet, no afternoon tea is complete without. The 100,000 acre national forest on the edge of which the hotel sits offers miles of hiking trails and a 9-hole par three golf course and indoor/outdoor tennis courts mean you can also stay on the grounds to break a sweat. Its spa has been named the best in England, and its hydrotherapy pool is perfect for a refreshing soak. If you want all the gentlemanly sensibilities of a five-star London hotel but want to stay out of the city, Chewton Glen is the hotel for you. 
---