Casa de Sierra Nevada Es Su Casa: Special Rates in the Heart of San Miguel de Allende
---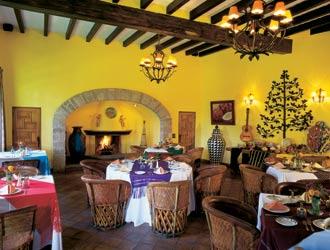 A beautiful boutique hotel in a cluster of historic buildings at the heart of San Miguel de Allende, the Casa de Sierra Nevada is the paragon of the small hotel experience in Central America.  The charm of the 33-room Orient-Express property is practically dripping from the stone arches lining its courtyard space.  To preserve the interior serenity, the Casa de Sierra Nevada doesn't allow children 11 or under, so you'll never have to worry about a little tyke with a toy airplane distracting from the last chapter in that novel you've been trying to finish for the last three months.  
Each of the hotel's 33 rooms had to be carefully adapted to hotel rooms as they are designated historical homes by the National Instititute of Anthropology and History.  Meticulously restored using period furniture alongside the more modern amenities of classic luxury, there is a very homely feel to the luxury at Casa de Sierra Nevada.  While larger chain hotels can seem somewhat impersonal even as they offer the best service, in San Miguel de Allende, you'll feel as at home as you would in your own living room, only with the five-star luxury you've come to expect from an attentive and accommodating staff.
 Not only that, reserve a room now to take advantage of special Five Star Alliance rates at the Casa de Sierra Nevada. Reserving through us grants a free room upgrade if available on arrival and a welcome margherita.  I can't think of a better way to start a vacation than reclining in an extra-spacious room with a tropical cocktail.  
---

Related Hotels