Dream Big at the Wynn Las Vegas
---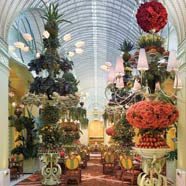 What is that you dream about?  I dream a lot about food.  I also dream about sports, and, when I'm ready to make one of my weekend trips to Las Vegas, I dream about a dream.  Specifically, the dazzling show known as Le Reve at the Wynn Las Vegas.  Le Reve, which is French for The Dream, is a magical production based around water.  Combining music, acrobatics, and dancing, Le Reve is one of the most incredible performances currently offered on the Vegas Strip.

Yet for you and yours, VIP tickets to Le Reve can be had for a lark.  Just use promotion code VIP PACK and you'll be paying less for oh-so-much-more.  The VIP indulgence package offers all visitors champagne bottle service, chocolate-covered strawberries, plush seating and behind-the-scenes video monitors.  Not bad if you feel like being blown away by such an incredible production.

In between shows, you might even find time to enjoy Wynn Las Vegas' incredible restaurants, shopping, spa, pools, on-site golf course, and oh yeah, one of the world's largest casinos.  I like to dress in a tux and play baccarat.  And a piece of advice, friends, always bet on the player.  Happy gaming and remember to dream big!
---