Destination Spotlight: Kyoto
---
An ancient capital city, Kyoto provides visitors with an array of living Japanese traditions. Formerly Japan's capital and home of the emperor from 794 to 1868, the city is full of history with countless temples, shrines, monuments, and ancient architecture. Today, it is one of the country's 10 largest cities, and home to more than 1.5 million people. Once outside of the Kyoto Station area's highrises, visitors are greeted with quintessential Japanese architecture, geishas gliding through the meandering streets, and 17th century teahouses. 
Located 3.5 hours via highspeed rail from Tokyo, the city transports guests back in time to the age of empires at the Imperial Palace with moat-ringed gardens where the Imperial Family lived until 1868 when the capital city became Tokyo. Cherry blossoms line the canalside Philosopher's Path, and Gion, a UNESCO-listed neighborhood has winding cobblestone alleys with teahouses. Cypress wood carvings adorn the Nijo Castle, the temple of Daigoji is a must-see, and the rock gardens of Ryoanji provide a calm, meditative space. 
The city's traditions continue into shopping options for guests. From wooden combs, to fans and tea ceremony necessities, Shijo Dori Kawaramachi Dori, and the Kyoto Handicraft Center offer an array of specialty shops. Galleries with woodblock prints and antique shops can be found in Shinmonzen Dori, and Nishijin is Kyoto's historic textile district known for creating fabrics that are transformed into elegant kimonos. Visitors to the Textile District can see master weavers at the Watabun workshop, and visit the Orinasu-kan Museum of Hand-Weaving. 
Kyoto is also a destination with unique dining experiences where guests can dine on vegetarian cuisine, shojin ryori in the gardens of a Buddhist temple. The bars of Kita-ku specialize in noodles and tofu dishes, the red lanterns of Higashiyama-ku lead to yakitori-ya, where grilled chicken skewers are a specialty. Traditional restaurants serve lip-numbing puffer fish, and an authentic teahouse experience can be found at Hyotei, a 300-year-old venue set amidst maple-shaded gardens where diners can seasonal Japanese cuisine in artistic lacquered bowls. 
Here are 5 Top Kyoto Luxury Hotels: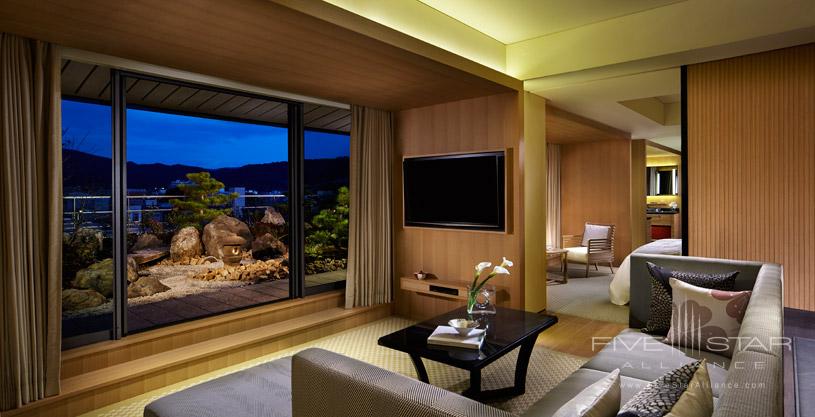 Featuring a design concept based on five feelings: Utage (festive), Seido (serenity and movement), Miyabi (elegance), Hana (splendid), and Nagomi (harmony), The Ritz-Carlton, Kyoto pays tribute to the cultural history of the city while providing a high level of service and international luxury amenities. The downtown resort is set on the banks of the Kamogawa River with expansive views of the famous Higashiyama Sanju-Roppo. There's an extensive art collection on display featuring local artists, world-class Japanese and Western dining, a luxury spa, and an indoor swimming pool. 
Check availability at The Ritz-Carlton, Kyoto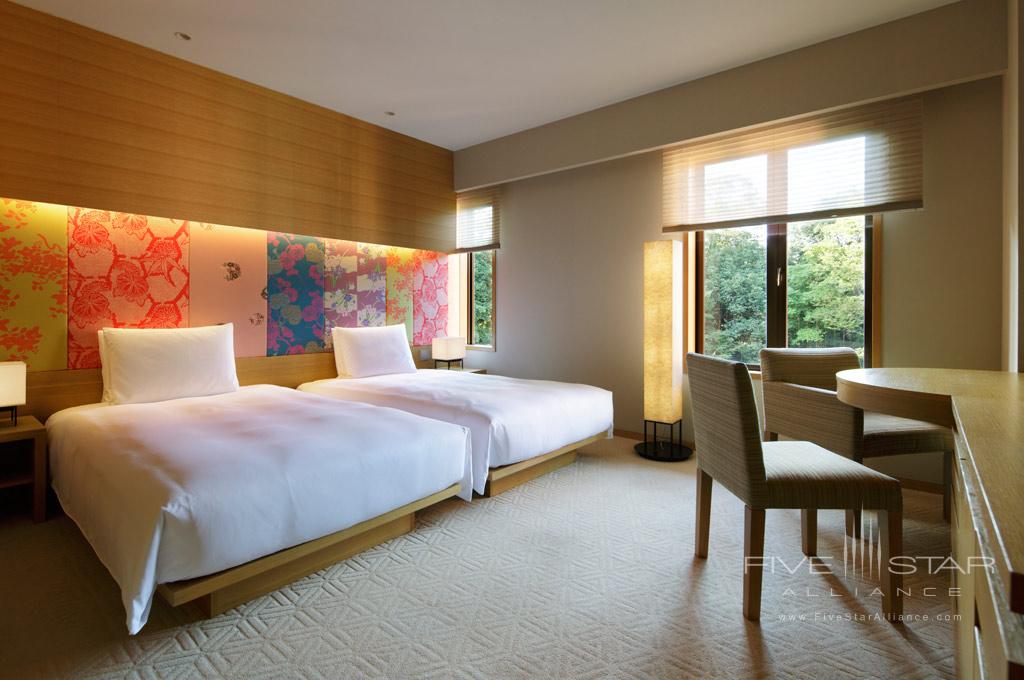 Close to major Kyoto sites including Chishakuin Temple, Sanjusangendo Temple, and the Kyoto National Museum, Hyatt Regency Kyoto has contemporary Japanese guestrooms and suites. There's a Japanese garden, and multiple restaurants including The Grill with French cuisine, Trattoria Sette with casual Italian, and Touzan Japanese restaurant. The on-site Spa and Fitness Center has 10 rooms with pampering treatments, and the fitness center offers personal programs. 
Check availability at Hyatt Regency Kyoto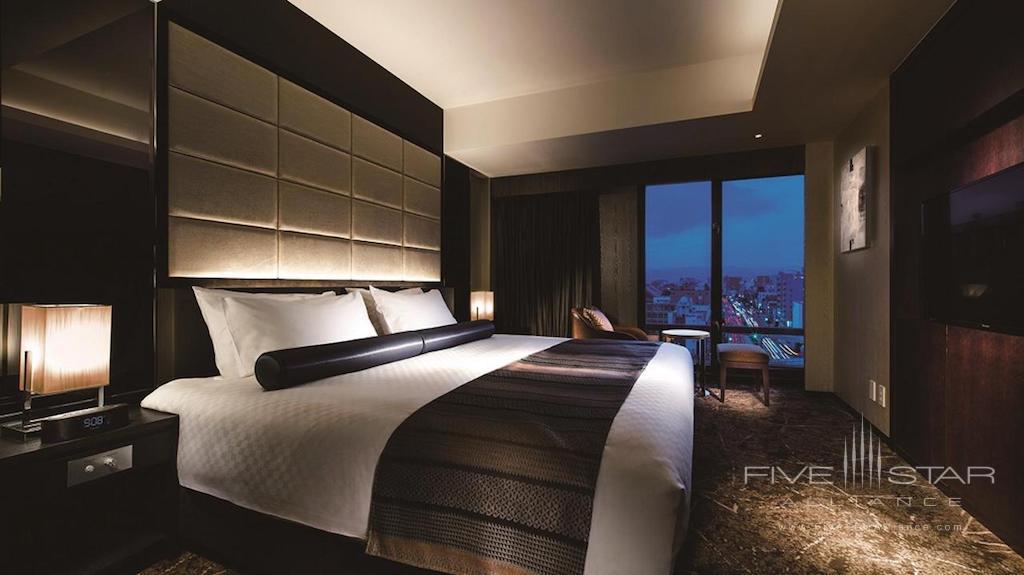 Situated near Kyoto Station, RIHGA Royal Hotel was renovated in September 2016. Offering all new facilities, the property has a luxe bar, heated indoor pool, and a fully-equipped fitness center. The restaurant on the 14th floor, Top of Kyoto is the city's only revolving restaurant, Teppan-yaki AOI offers a traditional setting, and Tachibana has French Kaiseki-style gourmet cuisine. There's a boutique in the hotel with souvenirs, and a 24-hour business center. 
Check availability at RIHGA Royal Hotel Kyoto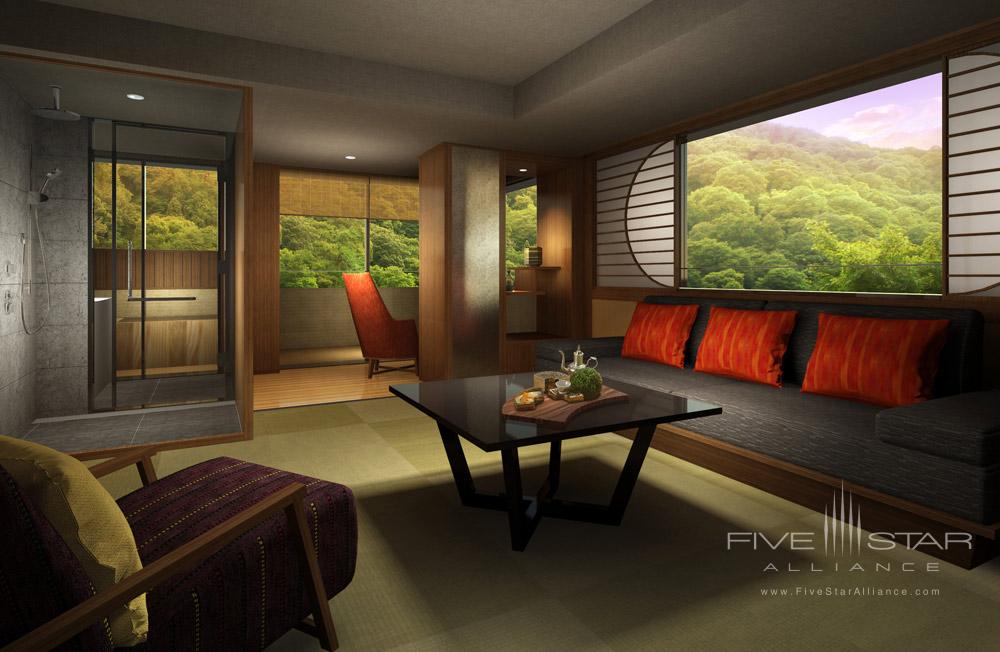 Situated in western Kyoto's scenic Ukyo-ku, Suiran, A Luxury Collection Hotel, offers an authentic Japanese-style experience. Set along the peaceful Hozu River, the intimate property has 39 guestrooms with traditional Japanese accents, restaurant Kyo-Suiran serves authentic cuisine in Baron Shozo Kawasaki's former summerhouse, Teppanyaki Kanzan has Japanese beef and fresh seafood, and the casual Saryo Hassui has a riverside location in a historic building originally built for 19th century poets. There's also a spa with local treatments and a private open-air bath on the third floor.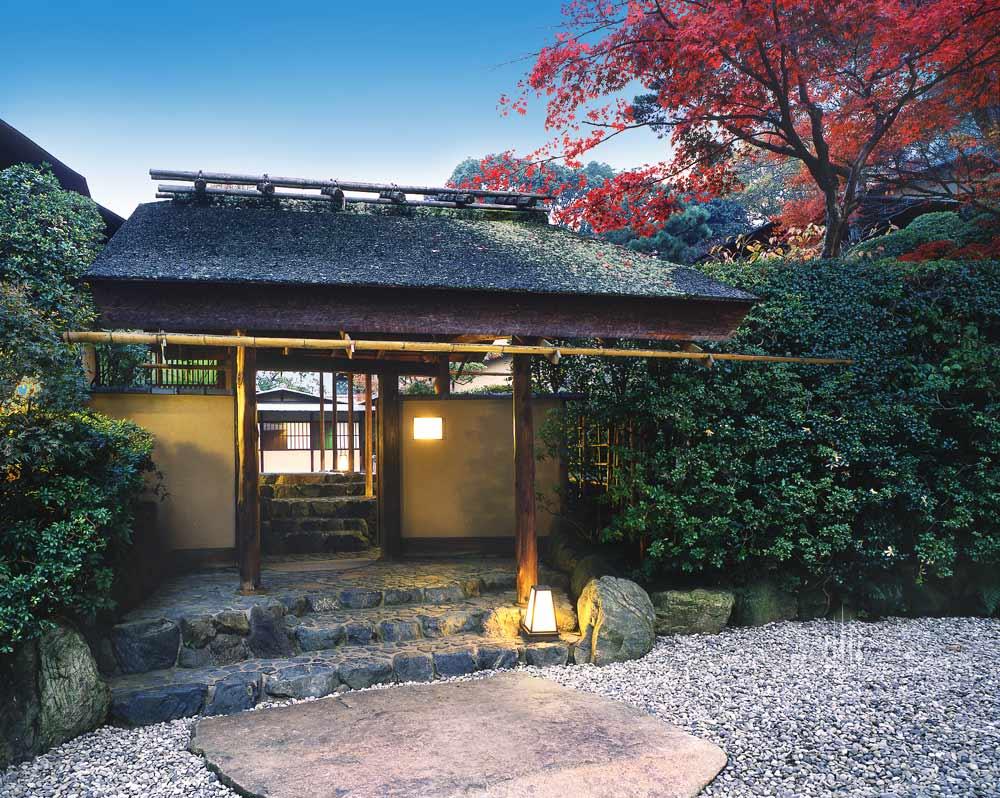 Amidst gardens and nature, The Westin Miyako Hotel Kyoto is a historic resort overlooking downtown Kyoto. There's an indoor pool with a wall of windows providing views of the mountains, and a seasonal outdoor pool shaped like Lake Biwa. Guests can take the trail behind the resort to the Wild Bird Sanctuary, and there are three Japanese-style gardens with historical significance, waterfalls, pines, and maples. For dining, the property offers a variety of options including the Grand View restaurant with a wall of floor-to-ceiling windows serving French and Western cuisine, as well as the Mayfair Tea Room. 
Check availability at The Westin Miyako Hotel Kyoto
---

Related Hotels