Can Luxury Hotels Be a Force for Development?
---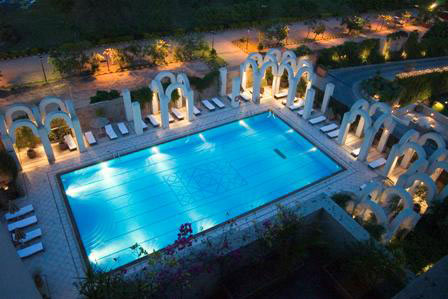 The last place one might expect to find a luxury hotel is on the wartorn streets of Kabul, where the porter's duty is as much to wipe off the accumulated dust of the ruined cityscape as it is to carry your luggage.  But one hotel brand is not just opening there, it's making it its mission to use the luxury hotel business to spur development in struggling countries, predominantly in the Middle East.  As Foreign Policy reports, Serena hotels are a mainstay of areas of internal conflict, its flagship property protected by armed guards in the heart of Islamabad.  And they're looking to expand their efforts in Afghanistan as a part of the unique mission of their benefactor, Aga Khan.
Aga Khan, whose personal wealth measures in the billions, began the hotel chain in the 1970s, and it is supported by Norfund, a Norwegian development fund, and International Finance Corp. of the World Bank.  As he is himself a spiritual leader of a sect of some 15 million Shiite Muslims, the vested interest in bringing the luxury hotel industry to Muslim countries is clear.  Part of the international development process is giving visiting businessmen and dignitaries a place where they can feel safe and taken care of while they come to work the deals that might, in theory, help lift places like Kabul out of the perpetual poverty of a war-stricken country.  
While the investment is not without its perils, the Serena in Kabul has been attacked three times since its opening in 2005, Serena has also been able to maintain occupancy rates of 60% in the very same hotel.  The visitors to Kabul are, of course, aware of the perils of the situation they are choosing to step into, and are often intimately tied into the conflict itself.  The clear hope is that once stability is gained, the hotels can serve as an existing infrastructure to develop a tourism industry around, and Serena's safer hotels in more established regions do a good business.  Regardless of your thoughts on this kind of luxury development work in countries where even food and water can be hard to come by for much of the population, Serena serves as a fascinating test case for developing industries in countries without the infrastructure to support them and shows the potential the hotel industry has to do more than provide a nice vacation.  You can read the full piece from Foreign Policy here and find out more about Serena properties at Five Star Alliance.
Kabul Serena Photo via Foreign Policy
---
Related Hotels
Located On 6 Acres Near The Lush Green Margalla Hills and Rawal Lake, Next To The Diplomatic Enclave, The Islamabad Serena Is Surrounded By Tranquil Jasmine Gardens. The Hotel Combines The Historical Architecture Of The Region... more >>