Escaping the Heat in Florence at the Bars of Five-Star Hotels
---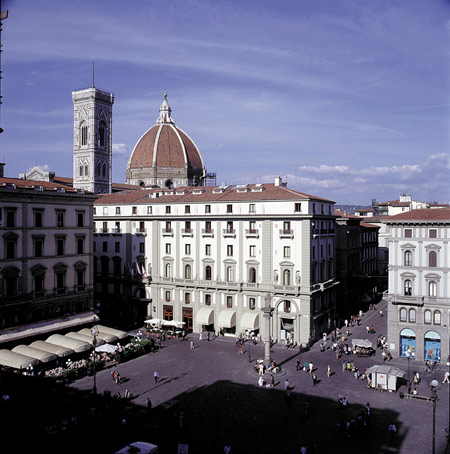 What to do when it's broiling in Florence? When battling record-setting temperatures in August, one city visitor came up with a brilliant solution: five-star cocktail hour! As Zofia Smardz recounts in an article in The Washington Post Travel section, the best way to beat the heat is to retreat to the ritzy spaces that are cool as cucumbers (air-conditioning isn't the norm in Europe). She and her husband headed to the Hotel de la Ville, "the blissfully cool bar at the posh Hotel Lungarno," Hotel Brunelleschi, and the Hotel Savoy:
"Buona sera, signora!" call out the desk clerks as we enter the Savoy lobby. Everybody's so welcoming! In the elegantly plush modern bar, the waiters hop to and we're soon basking in climatic comfort. We raise our martini glasses in a toast to our smarts, then sip the drinks verrrrry slooooowly as the sweat evaporates from our skin. The waiter brings a tray of treats — mini-crostini, olives, cheeses — for us to munch on. And a second when we finish that one. We relax. We feel very cool. In every sense. This is the life!
The only downside to a week-long spree? When the credit card bill arrives back home.
---