Conde Nast Platinum Circle 2012: Hotel de la Cite
---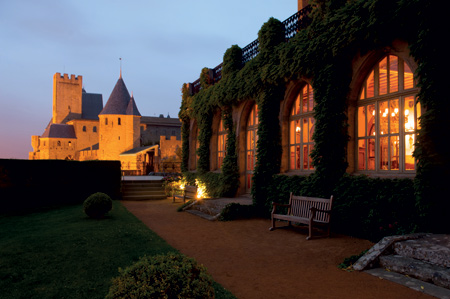 We've been spotlighting a list of Conde Nast's award-winning Gold List Hotels for 2012, and each one is amazing in its own right. In a clear case of never enough of a good thing, Conde Nast has yet an additional level to their awards, the meta-prestigious Platinum Circle Hotels, distinguished for being consistent Gold List winners for the last five years. Perhaps it could have been more aptly named the Conde Nast Award for Continued Excellence in the Having of Conde Nast Awards, but that's probably just my jealousy talking. It takes a certain level of cachet to be able to recognize someone for being recognized by you, and the Conde Nast Awards carry that weight. Regardless, the Platinum Circle hotels are undoubtedly some of the best of the best and have the mark of consistency that other hotels can only aspire to.
The Condé Nast Traveler Gold List 2012 is the eighth of their annual lists, and the hotels chosen by their team of editors and experts are the best for service, food, location, rooms, leisure facilities, ambiance and design.
Though some of us may have visited Carcasonne on our very own dining room tables, there's certainly reason enough to see one of the most storied feudal regions of France.  To collect double points, the proprieters completed Hotel de la Cite in 1909 on the site of a former Bishop's palace in a neo-gothic style.  Stain-glass windows and mosaic patterning adorn a hotel that echoes the sensibilities of 12th century France, and views of Saint Michel cathedral give it an eerily medieval quality.  From within the circular citadel walls, Hotel de la Cite overlooks the surrounding farmland with all the commanding presence of the original fiefdom.  Itself a UNESCO world heritage site, the fortified castle represents one of the most idyllic historic locations you could visit.  If you're looking to get out of Paris to explore the rich history of a medieval France, there's nowhere better than Hotel de la Cite.
Check rates, availability, photos and more of the Hotel de la Cite here!
---