Unusual Activities: Moonlight Spa Remedies at Alila Ubud
---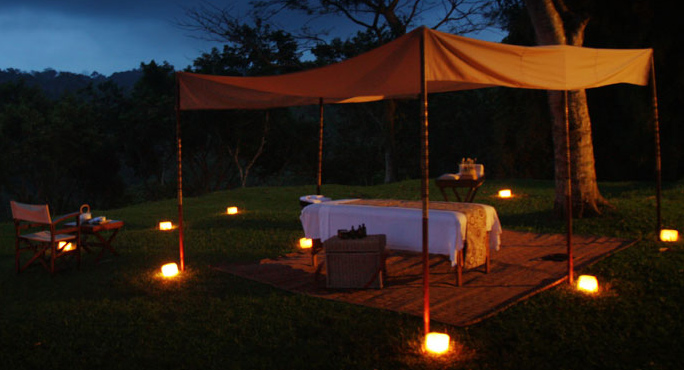 Alila Ubud offers its guests the opportunity to enjoy spa treatments al fresco and under the stars. Every new and full moon (which occurs on the 1st and 15th day of the lunar month) Spa Alila at Alila Ubud offers  Moonlight Remedies. During the period of a new moon or full moon the moon's energy is believed to be at its strongest, the massage treatments are conducted outdoors in a custom spa tent, open to nature yet completely private, harnessing good lunar energy to promote healing and spiritual growth.
The Moonlight Remedies begin with the Spa Concierge personally escorting guests from their room to the garden and into the caring hands of a Spa Alila therapist. Guests enjoy a cup of herbal tea while the therapist reveals the healing secrets of the moon. Then, in the spirit of Balinese tradition, treatment begins with a prayer that is meant to relieve stress, calm fears and reduce anxiety. The therapist's healing hands draw upon the lunar energy to relax and rejuvenate. Each session ends with the therapist harmonising. the body through methods rooted in the spiritual traditions of Reiki.
Currently, four destination-inspired massage therapies are offered by moonlight: Balinese Massage, an ancient therapy that combines gentle stretching, long therapeutic strokes and pressure techniques to alleviate stress and tension; Alila Recovery Signature Massage, which combines Balinese long soothing strokes, Swedish deep tissue massage techniques and acupressure for a complete body re-awakening; Reflexology, which improves the flow of energy around the body through pressure applied to specific points on the feet and hands; and Indian Head Massage, dating back nearly 400 years, which reduces stress and boosts vitality through the stimulation of pressure points on the head, neck, shoulders and face. 
Moonlight Remedies are exclusively available during the full moon period, for $125 per person.
Book a stay at Alila Ubud >>
---