Condé Nast Traveler Gold List 2012: Alila Villas Uluwatu Indonesia
---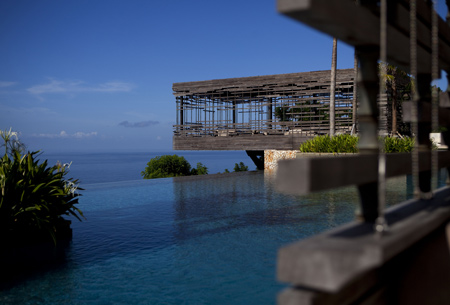 We understand that no one aims to come in second place; there is no recognition for mediocrity. We at Five Star Alliance understand better than anyone the importance of offering the most luxurious resorts in the world, so we notice what's going on in the industry, and it matters to us, because it matters to you. We work hard to offer you the best in the industry, and we'd like to welcome you to our second blog series where we feature the best and most luxurious resorts in the world. But don't take our word for it. These resorts have been recognized as the best in the business and have made the prestigious Condé Nast Traveler Gold List 2012.
The Condé Nast Traveler Gold List 2012 is the eighth of their annual lists, and the hotels chosen by their team of editors and experts are the best for service, food, location, rooms, leisure facilities, ambiance and design.
Featured prominently on the Gold List for ambiance and design, the Alila Villas Uluwatu is everything you could hope for in an secluded all-villa property.  On the very edge of sheer limestone cliffs that overlook the Balinese ocean below, the views from the outdoor pool and gardens seem to look over the edge of the world itself.  Sky and sea meet in an endless ocean of blue that is only ever disrupted by the prismatic diffusion of the sun's rays as it falls below the skyline.  And as darkness drapes itself over the edge of the cliffs, cradling Uluwatu in its embrace, simply step inside to the Sunset Cabana for a nightcap or something more substantial. Its holistic design is minimalistic but never spartan, tranquil but never vacant.  The Alila Villas Uluwatu truly deserves its place on the Conde Nast Gold List for most ambient and well-designed hotels of 2012.
---

Related Hotels