Yoga, Balinese Dance, and the Colors of Jimbaran at the InterContinental Bali
---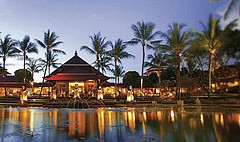 Sure, you will want to spend some days lounging on the beach, an endless stretch of white sand on Bali's Jimbaran Bay, surrounded by lush vegetation, lagoons, and ornamental ponds. But the
InterContinental Bali
offers a whole lot more than a blissful tropical vacation. Designed to incorporate traditional Balinese architecture, the luxury hotel blends in perfectly with the surrounding environment, respecting the island's fine artistry and Hindu heritage. In a locale boasting such incredible culture, you will want to experience a slice of Balinese tradition, while also soaking up the sun in paradise.
Book the "Colors of Jimbaran" package
and you will get to soak up the rich culture of the surrounding locale. Cycle around the village of Jimbaran; partake in an inspiring session of Balinese Yoga which gentle movements and regulated breathing to bring about personal wellness. Also included in the package is a lesson on Balinese dance and music. At the end of the day, relax with a stimulating Balinese massage treatment. The best part of all?
The three-night package is priced from just $735.
You'll also get round-trip airport transfers, daily buffet breakfast for two, access to the spa and fitness center, and exclusive Singaraja concierge services including an all day selection of fruit, pastries, tea /coffee and other light refreshments, board games, and a well-stocked library of DVDs and reading materials.
---