World's Tallest Hotel Bar and Restaurant is…?
---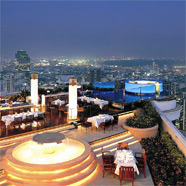 Looks like there's more than one hotel rooftop bar and/or restaurant vying for the title of world's highest.
We wrote
on July 27 about some great rooftop spots for dining, drinking and star-gazing.
Banyan Tree Bangkok's
spectacular 61st floor
Vertigo Grill and Moon Bar
was one of the luxury spots we mentioned as being the world's highest. Turns out that
lebua at State Tower
, also in Bangkok, has the
Sirocco Restaurant
, which they bill as the world's highest open air restaurant, located on the 63rd floor. We're big fans of their
Sky Bar
, too, which
we highlighted
a few years ago.
Rather than wade in to the fray about who is the highest, has the best views, or the best drinks/food or service, we'll just say that we wish we were enjoying the view from either one of them right about now.
---