Wine Harvest in Provence: Pick Grapes and Stay in Style at Hotel Crillon Le Brave
---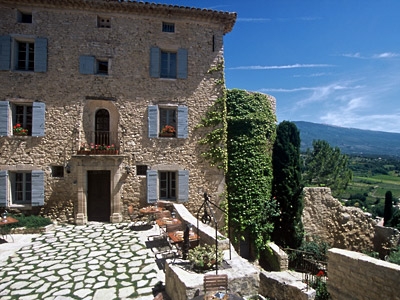 Calling all oenophiles. Here's a chance to participate in the annual wine harvest in Provence. Experience the magic of the Provençal countryside-- lively village markets, medieval towns, olive groves, and rolling vineyards-- with a Bacchanalian adventure offered by the
Hotel Crillon Le Brave
in September. Occupying a cluster of centuries-old buildings perched at the top of a village, this Relais & Chateaux property offers an idyllic (and luxurious) escape with just 32 rooms spread over seven historic houses-- linked by bridges and hidden courtyards. Guests will have the opportunity to get their hands dirty during the vendanges (harvest) with a three-day package offered two times this fall: September 16-19 and September 30-October 3:
The acclaimed Château Pesquíé has agreed to allow a limited number of Crillon guests to join their team for two days, picking the grapes and transporting them to the caveau. As guests of winemaker Paul Chaudiere, guests will be able to learn hands-on about which grapes to harvest when, the fermentation and blending processes, and the all important tasting analyses that contribute to making a great wine.
The package includes luxurious accommodations at Hotel Crillon Le Brave, breakfast and dinner each day, a picnic lunch at Château Pesquié, as well as two half-days of hands-on involvement in the grape harvest. Wine and other beverages are not included with dinner. Priced at €1300 for a standard room or €1550 for a deluxe room based on double occupancy.
---