Win a Free Island Hotel Stay with HotelChatter and Michael Kinsley
---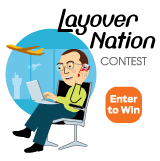 Our friends over at
HotelChatter
have a
fun contest running
through Thursday, July 31st that we suggest you mull over (your suggestion is important) and enter.
"Pick a Layover Stop for Michael Kinsley and Win a Free Island Hotel Stay"
From HotelChatter:
That's right. We said "A Free Island Hotel Stay" and all you have to do is enter a comment on HotelChatter. For realz! Ok so we're slightly getting ahead of ourselves here but this is the 411.

Not all of us can enjoy a cushy layover in an airport hotel like the Grand Hyatt Dallas Fort Worth, but Condé Nast Traveler's Michael Kinsley is determined to find the best layover cities around the world in case we do get stranded somewhere with hours of nothing to do on our hands.

Kinsley actually completed this challenge back in 1988 but since that was before the internet, before boutique hotels became lodging staples and before low-cost-carriers took off, he's decided to make the trip again in September.

This time he wants suggestions from you readers about which airports he should check out in which cities and what he should do while he's there.

So we're teaming up with the Perrin Post and Jaunted to bring you this fun contest. If your layover suggestion gets picked for Kinsley's itinerary you could win a Palm Centro Smartphone. And if Kinsley finds your tip to be his absolute favorite, you could win a killer stay at The Regent Palms Turks and Caicos.
Keep reading to learn how to win these goodies and to enter >>
---