Win a Botswana Zebra Migration Safari: National Geographic's Great Migrations Sweepstakes
---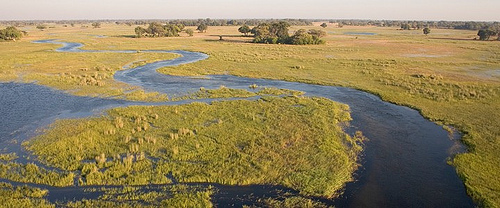 Did you see Great Migrations, the new series on the National Geographic Channel? The first episode of this seven-part TV event aired on Sunday, revealing to viewers the incredible journeys that millions of animals undertake to ensure species survival. This Sunday, November 14 you can watch Botswana's zebra migration, one of Africa's largest mass-animal movements which takes place every spring. Talk about action-packed armchair traveling!
Approximately 25,000 zebras leave the lush Okavango Delta (pictured) to make an imperative voyage into the Makgadikgadi Salt Pans. Family by family, the stallions lead their mares out of the Delta's Eden, to make the 150-mile trek into the Pans so their bodies can take in much needed minerals. Their journey includes hundreds of stops at water holes, eventually bringing the zebras back to where they began their pilgrimage in the Okavango Delta.
Visitors to Botswana can check out this incredible spectacle on a luxury safari experience with properties like the award-winning Khwai River Lodge, overlooking the vast Khwai River floodplains and beyond into the Moremi Wildlife Reserve.
Buzz: National Geographic is currently running the "Migration of a Lifetime" sweepstakes with some incredible prizes. For a chance to win a Botswana Zebra Migration safari, register online November 14 – 20.
---