Wimbledon Tennis at The Milestone Hotel in London
---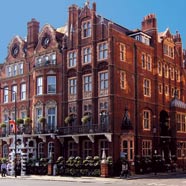 "When does
Wimbledon
start this year?" I asked the gent standing at the gates of the great complex, just outside of London. He looked back at me and replied sincerely, "Whenever the strawberries are ripe." Indeed, The Championships at the All England Lawn Tennis and Croquet Club would hardly begin without those delicious strawberries and cream at the ready. And if not ripe, how else would you serve the world's finest seasonal fruit?
Yet for those of us who prefer a more specific date, and since there are few people who plan around the harvest anymore, Wimbledon will be held from June 20 to July 3, 2011 in that South London borough made famous by the likes of Bjorn Borg, Pete Sampras, and Roger Federer. The 2011 Wimbledon Championships will be perhaps even more exciting than the rest, with a host of players at the top of their game. Will it be a repeat for Rafa Nadal, a return to glory for Federer, or will the United Kingdom finally claim back its crown with the feisty Scot, Andy Murray? Intrigue and drama abound!
If you're looking for that perfect Wimbledon tennis hotel, look no further than The Milestone Hotel and Apartments, just a few stops up the District Tube line from the All England Club. The Milestone not only gives you great access to world class tennis, but also the world class shopping and sites of downtown London. And with the strawberries ripening as we speak, and therefore the start of Wimbledon fast approaching, book a true Wimbledon hotel in the luxury filled Milestone Hotel and Apartments. And don't forget to say hello to Rafa for me!
---