White Nights in St. Petersburg, Russia at the W Hotel
---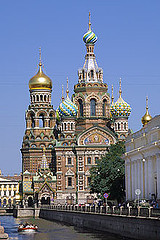 Just in time for the 2008 White Nights Festival,
Starwood
has announced the opening of a new
W hotel
in the Russian city on the Neva built by Peter the Great. Throughout the month of June, the sun never sets and St. Petersburg celebrates in style with music, festivals, and ballet performances at the Mariinsky Ballet and Opera Theater. Indulge in some caviar and ice-cold vodka and take in the city sites: the Hermitage (which rivals the Louvre), the Russian Museum, and the imperial estate of Peterhof. Scheduled to open in mid 2008, the new W hotel will be the first W in Eastern Europe. The hotel will showcase historic architecture complemented by exciting contemporary interiors (and plenty of signature W design elements, like the W Living Room). Located on Voznesensky Prospect, the hotel will feature spectacular views of the gold-domed St. Isaac's Cathedral from the guest rooms. The best part of all? A rooftop bar overlooking the historic city's sparkling lights.
---