Where to Stay in Rome: The Hotel Hassler, Atop the Spanish Steps
---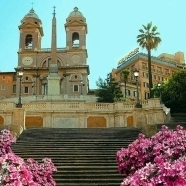 One our favorite picks in Rome? The
Hotel Hassler
, which offers spellbinding views of the Eternal City from its perch above the Spanish Steps. The award-winning hotel just got a shout-out from
National Geographic Traveler
in a feature titled "Three Faces of Rome." What's praised above all? Yes, those beautiful views from the restaurant get high marks, as the author "drinks in the view over Rome as the sun sets behind the Vatican." But more than that, it's the welcoming staff at the
Hassler
that really distinguish the hotel among others.
"Welcome, sir," says the well-tanned man behind the counter. Then he squints. "Or should I say... welcome back. I think so. No?"

Does he remember me from ten years earlier? "I'm good with faces," Emanuele Minuz says, reading my mind and smiling. Arriving at a grand hotel is one of the more pleasurable sensations in travel. And when one is not only welcomed but received, the feeling touches something primal.

The Hotel Hassler is among the world's great addresses. Trends come and go, but the Hassler abides...
---