When in India, Don't Miss the Taj Mahal
---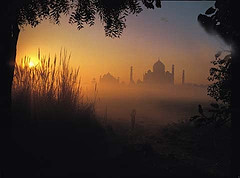 "Don't bother with Agra. Actually, keep away at all costs." Fellow travelers in New Delhi warned me—on my month-long trip to India-- to avoid the grime, pushy peddlers and chaos of Agra. That the Taj is best seen in coffee table books, postcards, even on the internet. I went anyway. Fly half-way around the world and not witness "the most extravagant monument ever built for love"?!? Who were they kidding?
In the 16th and 17th centuries, Agra was the capital of India under the Mughals, and both the Agra Fort and the Taj Mahal date from this era. This majestic mausoleum was constructed by Emperor Shah Jahan for his second wife, Mumtaz Mahal, whose death in childbirth in 1631 left the Emperor so heartbroken that supposedly his hair turned grey overnight.
We arrived in the afternoon, and watched the sunset fade salmon against the walls of the Agra Fort. Emperor Akbar began the construction of the massive red sandstone fort on the banks of the Yamuna River in 1565. I hadn't pictured that the ferocious Mughal warriors would be such architecture buffs. But the fort is beautifully designed. From slat-like windows in the ramparts, you can see the Taj Mahal rising like a mirage out of the flat plain.
The next morning's sunrise over the white marble grandeur of the Taj Mahal took my breath away. An hour within the presence of the Taj is nothing short of epic. The smooth stone was soft on our bare feet as we wandered beneath the dome, spellbound as we squinted into the irridescent rainbows shimmering from the sun's reflection on marble. As the light increased, the Taj seemed to change with each fresh squint, the light dancing across the pearly facade. Apparently the lovesick emperor had originally planned to build twin mausoleums, one brilliantly white and one of daunting black marble. Thank God he abandoned that plan. (And spared 20,000 more artisans and workers.) It's hard to imagine a duplicate. From sunrise to lunchtime, we could not take our eyes off of it. The only thing that could get us to leave was our growling stomachs.
Where to stay?
Just 600 meters from one of the greatest wonders of the world, The Oberoi Amarvilas is a breathtaking hotel, providing every modern service in a haven reflecting the grandeur of the surrounding monuments. Set among pools and terraced gardens, The Oberoi Amarvilas appears itself to be a Mughal palace, fusing Persian and Moorish influences in its exquisite architecture. The blue and gold domed entranced pavilion provides brilliant views of the Taj Mahal. Check into the regal Kohinoor Suite, with its separate living and dining rooms, private study and enormous walk-in closet. Even the bathroom overlooks the Taj Mahal.
Oberoi Amarvilas, Official Site
Oberoi Amarvilas, Five Star Alliance
---