What the Royal Wedding Means for London's Hotel Business & Economy
---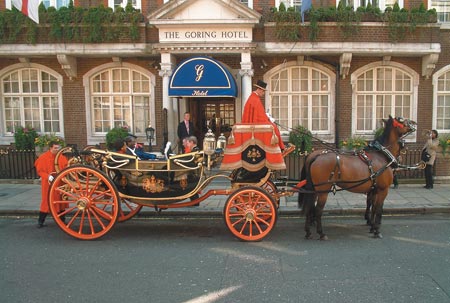 Talk about a royal stimulus. The upcoming wedding between Prince William and Kate Middleton-- the event of the year in the British capital-- is boosting the local economy in a major way. Declared a public holiday, the wedding will most likely be the most-watched royal event since the 1981 marriage of Prince Charles and Lady Diana Spencer.
Bloomberg reports
:
About 1.1 million people will probably visit the British capital when Prince William and Kate Middleton get married on April 29, according to Visit London, the city's official tourism agency. That's going to boost spending in the city by as much as 50 million pounds ($80 million), pushing up hotel room rates and prompting residents to become part-time landlords.
It's not just the hotel sector that will benefit from the royal nuptials. Britons are expected to splurge on food and drink, hosting street parties and other celebrations. In sum, says Bloomberg, the U.K. economy could benefit from 620 million pounds. And royal mania could singlehandedly catapult the U.K. out of the longest recession on record.
Pictured: The Goring, the London hotel which will host the wedding party.
---