What's Up with the Hotel Building Boom in Bulgaria?
---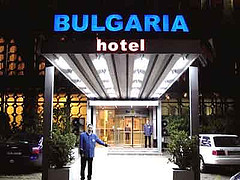 Change is afoot in the Eastern Europe outpost of Bulgaria. Its 20th century history was marked by the power struggle between paternalistic Russia and wary western Europe (which sought to break up the Russian stronghold and thus carved away Macedonia to the Balkans), but the country is now slated for entry into the European Union in 2007. And as the Financial Times reports, the Black Sea coastal beaches have recently become prime real estate for investors:
The Moscow government has already invested in this area of Bulgaria's coast, with plans to build two five-star hotels on a promontory enclosing the south side of the beach. And more buyers – institutions and individuals from Russia, the UK, Ireland, Spain and France – are circling, eager to get in on Europe's latest emerging market property boom.
Investment in upscale development is good news for Bulgaria's economy, and in addition, the government has realized the importance of legislation protecting the coast: banning high-rise buildings, creating new zoning regulations, and setting aside green space. Looks like Bulgaria is on the path to becoming Europe's new second home hot spot.
---