What's New in London: The Connaught's Massive Makeover and New Star Chef, Helene Darroze
---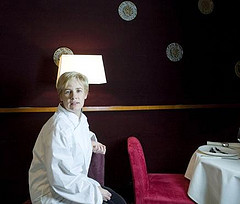 We can barely contain our excitement about the appointment of Hélène Darroze, one of France's most distinguished chefs, as the Executive Chef at
The Connaught.
For the last 18 months, The Connaught has benefitted from a finely-tuned,
GBP 60 million renovation
and now Phase 1 is complete-- after skilled artisans have labored to restore original features and added a whole bunch of contemporary art and technology. The hotel's priceless London location and coveted legacy have lured connoisseurs of luxury for over a century, and now
The Connaught
can continue to offer this grand hotel experience to its clients. The hotel's long love affair with gastronomy will continue with Hélène Darroze at the helm in the hotel's kitchen. Trained by Alain Ducasse, awarded with two Michelin stars, Darroze is considered one of the top-ranking female chefs in the world. Slated to open in the third week of June,
"Hélène Darroze at the Connaught"
will wow diners with Darroze's innovative dishes,
inspired by authentic regional and seasonal flavours,
with roots in her native Landes region of South West France.
To quote the Guardian:
"At the
Connaught
, she follows in the footsteps of Angela Hartnett, Gordon Ramsay's protégée who won a Michelin star there before the tenancy expired last September."
---