What's New in France for 2009
---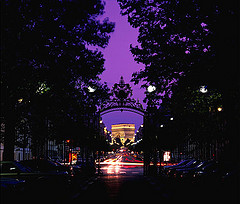 Travel guru Rick Steves has some tips
to share so you can make the most out of your trip to "Fantastique France."
(And with such favorable exchange rates, now's the time to do the Grand Tour.)
First up: Visitors can enjoy cafe people-watching without clouds of smoke, as restos nation-wide have gone smoke-free. Next: The Notre-Dame Cathedral in Paris has a new modest-dress rule, meaning no shorts. The Eiffel Tower will probably debut an online reservation system in 2009, so you can avoid those horrible lines. There's a new TGV train to Reims, so you can see the grand cathedral (and Chagall stained glass windows) on a day-trip from the capital. On the French Riviera, Antibes has opened its fabulous Picasso Museum after renovations, and the city of Nice has dropped museum fees. And the biggest news of all: The 65th anniversary of the D-Day landings in Normandy means crowds from June 1-10.
What would we add to the list? State-run museums will be free to anyone 25 or younger starting April 4. Bravo, Sarko.
---