What's Hot: Wolgan Valley Resort and Spa, New Eco-luxury Resort in Australia's Blue Mountains
---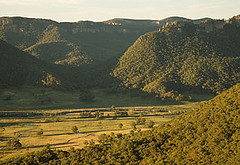 Just a short drive from Sydney, the World Heritage listed Blue Mountains offer breathtaking scenery of sandstone peaks and gorges known for their distinctive blue colored haze-- a miraculous act of nature as sunlight is filtered through drops of eucalyptus oil emitted from the region's eucalyptus trees.
And as The New York Times recently reports
, a tree once believed to be extinct- the Wollemi Pine- can now be seen at a new eco-friendly resort opening in October, as the luxurious
Wolgan Valley Resort and Spa
planted a grove of 60 Wollemi Pines for the enjoyment of guests. Since it was rediscovered in 1994, the prehistoric tree could only be found in the wild by a few scientists and conservationists, "one of Australia's best kept secrets." Set within its own 4,000-acre conservation and wildlife reserve, the resort will be operated by Emirates Hotels and Resorts. Each of the 40 free-standing suites will have their own outside deck and private swimming pool.
---