What's Hot: The Luxury Ice Bar, Four Seasons Hotel George V, Paris
---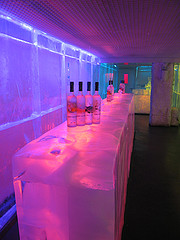 Ice hotels, ice bars, ice spas, luxury igloos... The opulent Four Seasons Hotel George V has jumped on the fashionably-freezing bandwagon. The first ice bar in Paris was opened at the trendy Kube Hotel in the 18th arrondissement. Hipsters flock to this cutting-edge design boutique. Entrance to the Ice Kube GreyGoose vodka bar is EUR 38 for 30 minutes with a limited capacity of only 20 peeps; reservations required. Now the George V has followed suit. According to the NYT:
It's official, freezing is in fashion. Last month in Paris, the Four Seasons Hotel George V opened a luxury ice bar, bringing a Gallic twist to a Nordic novelty. The bar was built entirely of ice in a refrigerated cube in the hotel's courtyard. Guests are given a black rabbit-fur Kaufman Franco poncho for their 30-minute session inside the boudoir-style interior, which is kept at a frosty 18 degrees. While the hors d'oeuvres won't cure frostbite (ice bars and sorbet), the flavored vodkas (ginger, cinnamon and vanilla among others) served at the glacial bar just might. The bar is open daily, 6 to 11 p.m. until Jan. 15, and the entrance fee of 55 includes drinks and amuse bouches. Reservations are required.
Related Articles:
Gadling, "Being Cold is, Well, Cool"
---