What's Hot: Mama Shelter, Phillipe Starck's New Hotel in Paris- The Price is Right!
---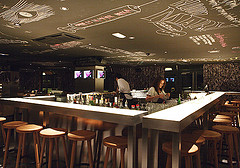 A cutting edge new hotel has opened in Paris, the first to be wholly designed by Phillipe Starck (from the ground up), in the untouristed 20th arrondissement. With a name suggestive of a cocoon, Mama Shelter provides trendy comfort at fashionable rates-- starting at just EUR 79 per night.
As praised by the International Herald Tribune
, the contemporary hotel was built by "Roland Castro, architect of low-cost housing projects, under the aegis of Serge Trigano, whose father was a co-founder of Club Med." The site used to be a garage, and the hotel's ceilings and floors reflect its gentrified surroundings, covered in stylish graffiti. Rumor has it that the 172 guest rooms are booked through October. This could become the most talked-about Parisian hotel opening of the year.
---