What's Hot in St. Tropez: Hotel Sezz is Now Open on the Cote d'Azur
---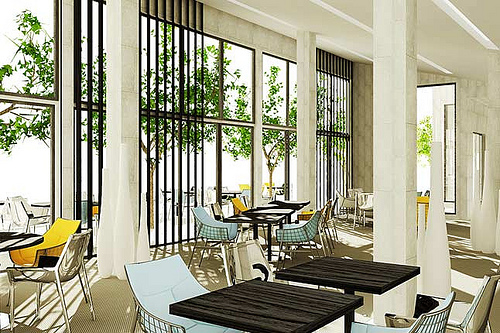 Hot off the press.
Hotel Sezz Saint-Tropez
has opened on the French Riviera and it's upping the luxe quotient in a decidedly glamorous place. The idea? Owner Shahé Kalaidjian envisioned the hotel as "a place full of grace and tranquility where space and service are incomparable. A hideaway full of light, air and wind." Just 200 meters from the closest beach (Plage de Canebiers), the 37-room resort was designed by architect Jean-Jacques Ory with traditional and Mediterranean materials to harmonize with the surrounding landscape. Centered around a spacious pool area, the low-lying hotel is filled with natural light from oversized windows. Designer Christophe Pillet created the interiors (and custom-designed the furniture showcased within).
The restaurant Colette, named after the famous French writer Sidonie-Gabrielle Colette, is headed by the Michelin-starred chef Pierre Gagnaire.
Also on the premises: a Dom Pérignon champagne bar and the Spa Sezz by Payot. Here's
what the Wall Street Journal says
about the seductive new property:
Over by the sandy beaches on Canoubiers Bay where Signac and gang painted their masterworks, the just-opened 33-room Hotel Sezz was dreamt up by hotelier Shahé Kalaidjian as the bon chic bon genre holiday version of Hotel Sezz (short for "seizieme arrondissement") in Paris. The concept: No check-in desk, since guests are greeted by their own personal assistant and offered a drink in the lobby.
What else we like: Yoga classes in the hotel's private garden plus the hotel shuttle service which takes guests to Plage de Pampelonne with picnic baskets on request.
---