What's Hot: Hospes Palacio del Bailio, Cordoba, Spain
---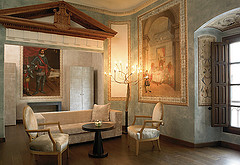 There's a reason this tiny gem has racked up so many accolades and is noted on
"It Lists"
the world over. The latest from the
Hospes Group
, Spain's hippest hotelier which also runs the chic
Hotel Lancaster
in Paris,
Hospes Palacio del Bailío
is a 16th century palace turned design hotel. Surrounded by the architectural marvels of the city of Córdoba, the eighth century seat of the Moorish caliphate, the hotel itself is a stylish mix of contemporary luxury and fine historical details, like vaulted ceilings, beautiful frescoes, and 15th century doors. Indeed, in the atrium, a glass floor reveals a Roman villa that was unearthed beneath the building's foundations. There are 53 rooms and suites with sleek bathrooms, a courtyard swimming pool, Roman baths and signature Bodyna spa, and tapas bar and gourmet restaurant. Step outside and discover the riches of
Córdoba
, a UNESCO World Heritage site and ancient crossroads where narrow cobblestone streets wind past whitewashed walls and Moorish monuments.
---