What's Hot: China's Carbon-Neutral Hotel, URBN Shanghai
---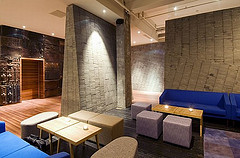 With all the talk of smog-clouded skies in Beijing and factories sprouting up like weeds, it's nice to see a new(ish) line of carbon-neutral, boutique hotels in China.
URBN Shanghai
is making waves as a model for eco-design and sustainability in the hospitality sector. Named to
Conde Nast Traveler's
2008 Hot List and recently cited by
Fodor's Hot List
, URBN was built with
recycled materials
and energy-saving technology. The hotel calculates its carbon footprint (including energy consumed by staff who commute, and food and bev delivery), and then purchases credits for green energy to neutralize the footprint. Guests are encouraged to buy carbon credits to offset their flights. The hotel has 26 designer rooms outfitted with all the latest technology, housed in a renovated factory just two blocks from Shanghai's high-end Nanjing Road. This is the first of what's promised to be a chain of URBN hotels across China.
---