What's Hot: Boutique Hotel Sassi di Matera Fashioned Out of Neolithic Caves in Italy
---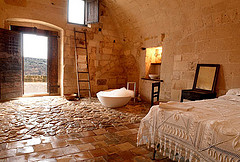 From the Stone Age, humans have inhabited the caves in Matera (in Basilicata, Italy), recognized as a UNESCO World Heritage Site because of the remarkable houses built into the rock cliffs. Now you can stay in a beautiful boutique hotel, spread out over a few of these renovated caves and comprising 18 spacious rooms.
Sassi di Matera Albergo Diffuso
is the result of a meticulous renovation, featuring antiques rescued from nearby historic buildings and beautiful appointments by local craftsmen. As highlighted in the New York Times Travel Magazine, the hotel is Italy's most intriguing new hotel:
The towering wood door swings open, and it's the glow that strikes me first. My hosts, Daniele Kihlgren and Michele Zasa, lead me out of the blazing afternoon heat and into a vast Neolithic cave with 20-foot-high walls that seem to be lit from within. The walls are carved out of soft tufa stone the color of honey and pockmarked with hundreds of pits and crevasses, chiseled by the shepherds who have lived here over the past 2,500 years. Zasa, a local guide, points out fossilized seashells embedded in the double-height rock ceiling and a pear-shaped cistern once used as a well. In hushed tones we admire the graceful vaulted archways that look as though they've been splattered with lumpy cake batter
.
---