Villa d'Este, Lake Como: Serious Wow Factor in Italy
---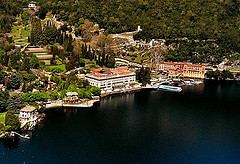 "The precise location of heaven on earth has never been established but it may very well be right here." It's little wonder that the
Villa d'Este
, the lakeside villa celebrated for its high standard of service and adored by the world's celebrities, was recently featured in an
article on "outrageous itineraries" and over-the-top vacations.
These digs will impress any traveler looking for a serious wow factor. Dating from the 16th century, the princely residence is set in a picturesque 25-acre park overlooking the shimmering waters of Lake Como. (
Pssst. George Clooney hangs out here.
) Guests get a taste of the luxury and magnificence of a bygone era, and the gracious hospitality to match. Float in the unique pool floating on the lake, and soak in the built-in Jacuzzi. There is a Sporting Club for those feeling more ambitious.
---