Vienna Wine and Design Competition: Stay at the Ambassador Hotel
---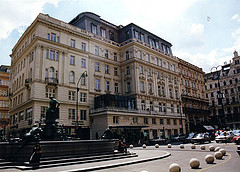 Fall in the Austrian capital means it's time for wine and design. With 700 hectares of land dedicated to wine growing, Vienna is the only city in the world with extensive vineyards inside its metropolitan limits. These days Viennese wine is winning wine-tasting contests and wooing more and more visitors to Austria. Another reason to head to Vienna this fall: Art Week which boasts a
packed program
of exhibitions and guided tours, running from November 16 to 22. Though Vienna Design Week just finished (
alas
), you can still check out the
city's "groovy designers"
and
register to win in the Vienna Wine and Design Competition
, sponsored by the Vienna tourist office. You could score a bottle of premium Viennese wine, a piece from a local designer, or an instant win. Running from October 1 - November 30, 2009.
Art lovers will want to grab a room at the Ambassador Hotel, the city-center pad which has made its motto "Arts and Delights." Part of the city's cultural fabric for more than 100 years, the luxury hotel  offers "arts and delights, recreation and pure pleasure."
---